Back to Blog Home
Infolinks Vs PropellerAds Vs Adsterra : Which one works best for publishers?
April 22, 2020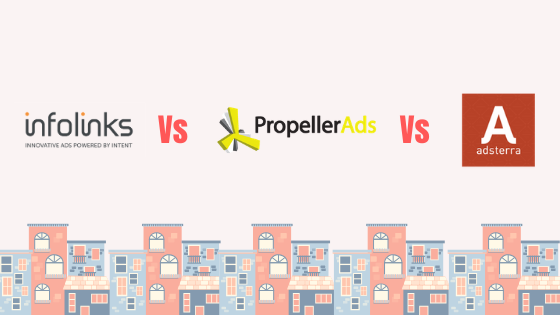 Okay, so this isn't directly related with Tambola Fun or Direct Message app. But this is something which website and blog publishers might find useful.
When it comes to monetizing website traffic, Google Adsense is the king and nothing beats that. Period! However if you have a new website/blog without much content then chances of getting your website approved in Adsense are razor thin. Does that mean you should give up and wait till you have enough content to have your website/blog ready for Google Adsense? Well, this might be true if your website/blog is new and your site doesn't have much traffic since even if you start showing ads on your website, you won't make any money.
We launched this website almost 3 weeks back and from day one we started getting 1500 unique users (5000+ pageviews/day) via our mobile app. We put together some content (including online tambola game and tambola tickets generator) and applied for Google Adsense. But as expected, our site was rejected as there wasn't much content though we did have decent traffic. That's when we started considering Adsense alternatives.
We started with affiliate networks (Linkshare, vCommission, Viglink) but we didn't get approved by advertisers which would have worked well with our website theme/content. We even tried some generic online services ads like hosting, VPN etc but they didn't fetch any sales even after 500+ clicks in less than a week. Eventually we decided to go with networks that pay for impressions (and clicks) so we'll make something given the daily traffic we had.
Though there plenty of advertising networks, we started with three to see how they perform before we try something else. And we started the following three:
Infolinks
To be honest, we were expecting this to be the best among all option given that we have seen infolink ads everywhere and this is an old and established advertising network. It took almost 2 days for us to get the website approved and they had plenty of options (5 types of ads) to show ads on the website.
In-text (show links on your existing content with popup ads). You can choose how many links you want to show (up to 12) and customize the style, e.g. colors, underline, link style etc.
In-fold (this sticky banner type ad can be shown at the bottom/right/left of the page)
In-tag (shows a bunch of links like footer links though you can place it anywhere you want)
In-frame (ads appear from left and right on page load)
In-article (these can be placed within your site content and they match the look and feel to look native to the website)
Lot of options and you might be tempted to show all of them but we strongly recommend not to do that else your website will end up having more ads than the content. Anyhow we tried 3 types on our website on different pages to see their performance for a day and here is the summary of what we made in 24 hours.

Summary: For nearly 6000 ad impressions in a day, we made just 10 cents. Very disappointing! Anyhow let's move on to the next candidate.
PropellerAds
Next we tried PropellerAds for a day to compare the results. They too had 6 types of ad formats but the ones we found useful were not allowed as they are restrcited to sites that rank in top-500000 sites. So you can forget about those ad formats if you have a new website.
In-Page Push (Banner) - available only to Alexa top-500000 sites
Native Banner - available only to Alexa top-500000 sites
Push Notifications
Onclick (Popunder)
Interstitial - available only to Alexa top-500000 sites
Direct link (Direct ads)
As you can see, the ads you would want to use are all restricted for a new website. So we tried popunder ads for a day though they are very bad for the user experience. And here are the stats from that.
Just to clarify, this ran for almost 24 hours but 12 hours on 18th April and the rest on 19th April. Impressions are less because popunder ads are not shown everytime but randomly.
Summary: For nearly 1450 impressions, we made around 77 cents. Compare this with 10 cents from 6k impressions on Infolinks. So this is certinaly better than Infolinks and we are sure if we get to try other ad formats (which offer more impressions) than we can do better.
Adsterra
Finally, we tried Adsterra. They have standard banner ads of all sizes along with popunder, webpush (notification) along with an ad format called "vast" which we didn't understand :)
We start running ads from Adsterra on 20th April and here are the stats from that day. Ignore the numbers from 21st as this was taken on 21st morning so those numbers aren't complete.

So we made around $3.5 USD from around 5500 impressions and 15 clicks in a day and this would translate to roughly $100 USD a month.
Summary: First look reveals that Adsterra seems like a good choice as approval was quick (less than 24 hours), CPM rates are better compared to Infolinks and slightly better than PropellerAds. For same number of impressions, we would have made around $3 USD on PropellerAds.
Final Thoughts
I would like to emphasize that we ran these ads without any optimization just to get some raw stats. I am sure these results can be significantly improved by chossing the right ad formats and there are other factors as well, e.g. higher payouts from specific ad impressions/clicks. But from what we have seen from these numbers, we wouldn't probably depend on Infolinks much. We would definitely continue to use Adsterra (at least till we get approved for Adsense) and would also try to optimize PropellerAds.
All the stats shown above are genuine and from our account on respective sites. We do hope this post will help publishers like ourselves in some way. In case you have any questions or any suggestions, please do let us know by contacting us.